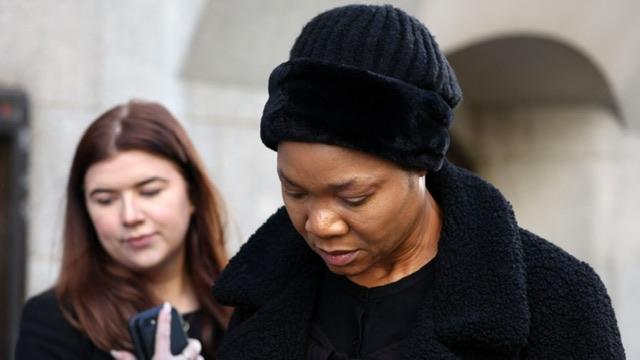 After enduring the emotionally charged cross-examination of Beatrice, his wife on Tuesday, former Deputy Senate President, Ike Ekweremadu, provided a shoulder for her to lean on.
Both husband and wife had their chance soon after the Judge adjourned proceedings for the day and had made his way back to his chamber.
Ekweremadu, who with his wife, their daughter, Sonia and Dr Obinna Obeta, are on trial for conspiracy to arrange and facilitate travel with the aim of exploitation, rubbed her back a couple of times as she rested her head on him.
Amidst tears in the witness stand, Mrs. Beatrice Ekweremadu, had during the Tuesday's evidence, told the Old Bailey that she was shocked when they were arrested and taken off their plane on landing at Heathrow Airport by Metropolitan Police officers on June 21, last year.
She also told the court "we're law abiding citizens of our country," and that: "l don't know why we're in this mess." When Ms Patterson, for the prosecution said the family was quickly searching for another donor to exploit after Royal Free Hospital, Hampstead, informed Sonia in late March, that potential donor, David Nwamini, wasn't suitable, Mrs. Ekweremadu replied and told the court, "I did not exploit David. David knew what he was doing, he came to deceive us." According to her, "l thought David was back in Nigeria." She told the jury "David was not forced to the UK."
As the tears continued to glue, the judge asked if she wanted a break before proceeding with her evidence, she said she was going to carry on. She eventually completed her evidence and then went back to the dock.
Meanwhile, when the trial reconvened on Wednesday, the police were accused of doing a shoddy investigation and not checking out what Nwamini told them when he came up to their station on May 5, saying he had been sleeping on the streets for three days and that he was trafficked to the United Kingdom.
Cross-examining one of the detectives on Wednesday, the Senator's barrister, Martin Hicks, KC, asked the detective if they followed up thoroughly on Nwamini's allegations, the detective admitted that they didn't.
Also on Wednesday, the judge began his summing up and giving legal directions to the jury. Among others, he told the jurors, "no defendant must be convicted wholly or mainly because they told a lie." Besides, he said to them, "you must bear in mind that a defendant who tells a lie is not necessarily guilty."
Obeta's barrister was to start her closing speech as at the time of filing this report on Wednesday afternoon.
Comments
comments