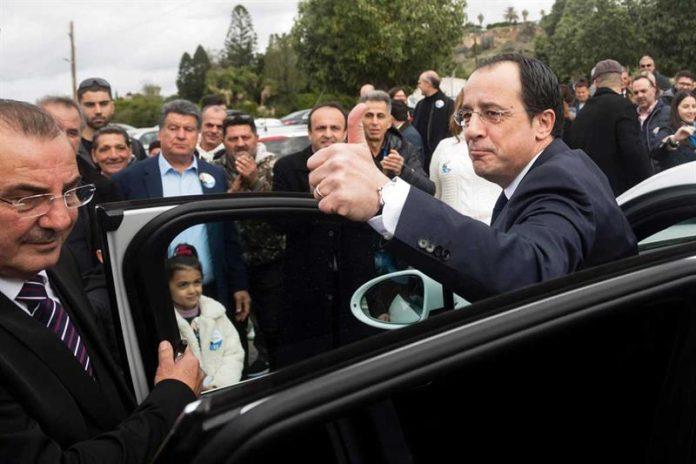 Cyprus's former foreign minister Nikos Christodoulides faces career diplomat Andreas Mavroyiannis in a second round of presidential elections next week after neither secured a majority of the vote on Sunday.
The winner needs 50 percent plus one to succeed two-term President Nicos Anastasiades.
Pre-poll favourite Christodoulides is leading a close-fought contest with 32.04 percent of the vote, followed by Mavroyiannis with 29.58 percent.
"Today, Cyprus spoke. It spoke clearly," Christodoulides said late Sunday. "I'm ready to take on this great responsibility."
"I remain true to my position for a government of broad acceptance. We don't rule anyone out," he said.
Averof Neofytou's future as leader of the governing conservative party DISY looks shaky after he trailed in third place with 26.11 percent of the vote.
Despite being endorsed by the incumbent, the seasoned politician is the first DISY candidate not to progress from the first round in the party's history.
The interior ministry said Sunday's turnout was 72.03 percent, from an eligible electorate of more than 561,000, including 10,346 Cypriots abroad.
Analysts said Mavroyiannis, a 66-year-old technocrat backed by the communist party AKEL, had surprised observers on Sunday by squeezing out Neofytou, 61, and closing the gap with the 49-year-old centrist-backed Christodoulides.
Cypriots turned out in large numbers for an election in which the focus was on corruption and the economy amid deadlock over the island's long-standing division.
Even before polling stations opened, Christodoulides was seen as the favourite.
"If he goes to the second round, he is predicted to win," said Andreas Theophanous of the Cyprus Center for European and International Affairs.
– Tackling corruption –
Voters appeared concerned about a cash-for-passports scandal and the pressures of irregular migration on public resources, while the issue of the island's decades-old division remains at an impasse.
Cyprus has been split since 1974, when Turkish forces occupied the island's northern third in response to a Greek-sponsored coup.
"I expect the next president to do something about corruption and to settle the Cyprus question," said civil servant Andreas Georgiadis, 29, after voting in the capital Nicosia.
The centrist parties that back Christodoulides take a tough line on reunification talks, but his rivals were seen as less hawkish.
Mavroyiannis backer AKEL champions reconciliation with the Turkish Cypriots, and Neofytou is seen as a pragmatist and "dealmaker".
"We got more votes than the previous general election, but it wasn't enough," Neofytou told supporters after the results came through.
Mavroyiannis meanwhile remained upbeat ahead of next Sunday's run-off.
"We achieved our target… we are on the right track," he told supporters in Nicosia.
Analysts say campaign pledges to root out corruption and improve the economy are key issues for the electorate.
"Corruption is at the core of the discussion, the economy and daily life. The Cyprus problem is a secondary issue," said Giorgos Kentas, associate professor of international politics and governance at the University of Nicosia.
Although Christodoulides had served in both Anastasiades administrations, he seems to have escaped the taint of corruption.
"People know there is corruption; the explanation that Christodoulides gave seems plausible to them – that he had no direct responsibility, and they believe that," said Theophanous.
– 'We are on autopilot' –
Fotos Constantinou, a car dealership employee, spoke bluntly after casting his ballot.
"We are on autopilot and we don't know where the plane is going," the 50-year-old said. "We need a head of state who takes households and the working class into account. Cyprus is not just the Cyprus issue."
Kentas believes whoever is elected will need "to work hard to re-establish the country's credibility on the world stage."
Despite January inflation slowing to 7.1 percent from 7.9 percent in December, high energy and food prices remain a concern.
"Irrespective of who wins, there is the challenge of low salaries and high rents faced by the younger generation," said Theophanous.
A record 14 candidates — but only two women — stood in the first round.
Extreme right-wing party Elam secured fourth place with their candidate, party leader Christos Christou, garnering six percent.
This puts Elam in the conversation in its support for the next president, although Mavroyiannis has previously dismissed any cooperation with extremists.
AFP
Comments
comments