Pastor Miebi Biribina's social media page has been flooded with comments as the founder and CEO of Baraza Multipurpose Cooperative update his Facebook profile picture on is birthday yesterday.
While some pour birthday wishes on the CEO, others used the medium to demand for refund of their investment in Baraza multipurpose cooperative society limited
NAIJA LIVE TV reported that, the CEO, Past Mienbi Bribina earlier seek a three months period to settle investors who were yet to get their returns after the Cooperative experienced setbacks.
On expiration of the three months period, the Chief Executive Officer (CEO) of Baraza Multipurpose Corporative had appealed to investors to give him extra ten months to pay-off the over 40,000 members that invested in his Foreign Exchange (Forex) trading venture.
NAIJA LIVE TV reported that, Bribena made the appeal during a live Brekete Family Reality Talk Magazine Program, promising to commence weekly payment of returns to investors starting from 20th August, 2021.
According to him, the payment of returns would take a bottom-top approach, "meaning that we would start with those that have lowest investment upward" he added.
It was learnt that with the new payment plan, all investors would receive their returns by the end of May 2022. But almost a year after, many investors are yet to receive a refund of their investments.
The following are some reactions as he update his Facebook profile picture on birthday;
"Oga return people money!! how do u feel when people monies are with u n yet no plans to pay dem back" said Emmanuel Ubong.
@Dickson Didi Opuene; "Miebi Bribena na thunder go fire you, no worry one day be one day you will forget and find yourself in Nigeria."
Matthew Anthony said "Until u return my 1milion u will not have rest….. U make me go through alot… Only God will judge you!!.."
Noah Akpi said "Why not still stay in your hideout, dn't come and remind the people of their past agony"
Victor Boyo said "Evil man that went away with our Baraza money. Here you are smiling while those you defrauded yet nurse grudges against u. Heartless man."
Ngowari Iyalla said "I forgive you, I which you all the best that life brings happy birthday, I pray God should bless and protect you and your family, and help me also rebuild my family someday, it is well, my brother,"
Peter Timothy Osasere said "You caused me pains and joy same time, my greedy uncle lost 1.5m which was a great news to me then while i lost 400k"
Wiser Gideon said "You rendered people useless still get mind dey post, always remember that karma is real"
Rita Godfrey said "Mr man,when am I getting my money ? See I'm not smile oo because I didn't ask you to lavish it on women oo so you better find a way to pay me oo.
Perekeme Odon said "A blessed birthday to you, Pst. Miebi Bribena , as more grace and strength be bestowed upon you in your chosen endeavours."
@Tari Etete; "If only u know how people dey take plan u when Dem catch you for nkoroh ehn"
Selekumo James said "Your own is not worst than the so call Niger Delta bad leaders. Happy blessed birthday sir"
Ayozie Kelechi said "Happy birthday.Arc, Pastor, Dr. Miebi Bribena. The Man with the heart of Gold. May lines fall in pleasant places for you."
Engr Bright King Iwo said "Happy Pastor Sir, you are blessed abundantly, more grace in good health, peace and prosperity, no weapon formed against you shall prosper and any tongue that rise against you in judgement shall be proved wrong.
You are blessed abundantly cheers"
Joseph David Boyai said "Thank you sir, the money my Ex girlfriend collected from me . I'm glad you took all back
"You are my hero , now my ex can't pay her house rent again because of you and she is back to me again. God bless you sir"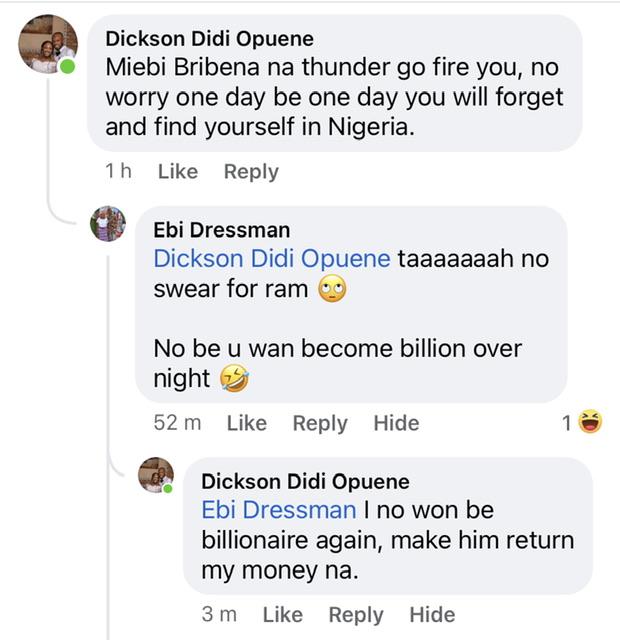 Responding shortly, Pastor Miebi Bribena on Facebook live-video session on Sunday, replied to comments that he's not hiding. That he's in Ghana and Ghana happens to be a place with laws and not like here in Nigeria.
The Baraza CEO also said he's going to win his case against the EFCC which he claimed is been sponsored by enemies adding that Political godfather's can't stop him.
Comments
comments