Frank Osei, 40, has been apprehended by the Bechem Police after he was caught stabbing his wife on Wednesday.
Frank, the assembly member representing Adruban Basic Primary Electoral Area was called to inspect a land issue on Monday morning at a farm within his electoral area.
Frank together with a few members of his unit committee, went to the land on Monday morning but could not inspect the land due to rains. The team led by Frank Osei, willing to settle the land issue between Agya Nsor, 58, and Maame Nketiah, 37, went back to the same farm on Tuesday morning when the weather was clear for them to inspect the lands and settle the dispute between the two.
It was with that inspection on Monday, Frank received a call from one of his trusted friends of seeing his wife, Adiola and one Okey Emmanuel uncomfortably. The caller reported to Frank on Monday of Okey Emmanuel coming from his bedroom, but Frank had argued he was having electrical problems in his house and Okey, an electrician was fixing the issue for him.
The same caller reported to Frank on Tuesday of seeing Okey Emmanuel in the same uncomfortable position with his wife when he returned to the farm to settle the dispute. Frank in trust of his wife, never reacted and tried finding the truth of the matter. Okey, the electrician, had taught Frank's wife how to disconnect certain electrical gadgets so he could use that as an excuse to visit Frank's wife.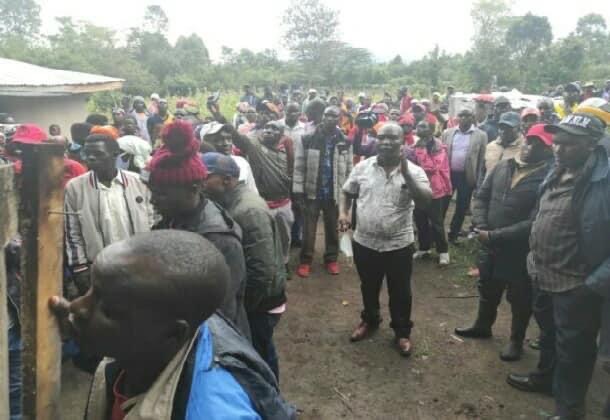 Frank lied to his wife about going back to the farm on Wednesday after they had settled the dispute on Tuesday. Frank with his machete, went into hiding and saw Okey Emmanuel arriving in his house after a few minutes he had left the building. Frank Osei, the assembly member in silent walking, found his wife and Okey Emmanuel; Okey standing at the back of Frank's wife whiles the wife faced Okey with her back, and together, they kept making small murmuring in the room as they enjoyed themselves.
With the machete, Frank hit Okey from the back two times before proceeding to stab his wife with the same machete. Okey survived the attack and was rushed to the hospital but the wife, Adiola Osei, did not survive and died. Frank has been arrested, with Bechem Police leading investigations into the case.
Speaking on the issue, Derrick Apiagyei, a unit committee member of Frank's electoral area defended Frank for doing the honourable thing. Derrick from his perspective saw no wrongdoing with stabbing another person and defended that, if your wife cheats on you, you don't spare her.
The forever for worse is an anthem to bind two people together, not a joke. He caught her in the act and couldn't control his emotions, and stabbed her. He should have killed Okey Emmanuel too for going after his wife, Derrick Apiagyei lamented after the incident.
Comments
comments