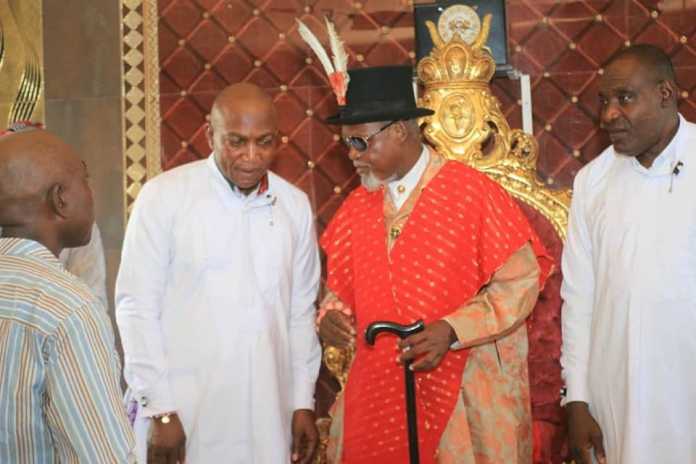 The Flag Bearer of the All Progressive Congress (APC) , Chief David Lyon has promised to adopt direct interactions with traditional rulers and the peoples of the State through visits and twon hall meeting with communities over contentious issues of insecurity and governance.
Lyon said his aim to become the governor of the State is to make Bayelsa liveable by tackling insecurity and that to do this the traditional rulers and various groups must be partners in this expedition.
Chief David Lyon, who made this known during a campaign interaction with the Okpoma Council of Chiefs, the chiefs of Okpoma Kingdom and Odioma Kingdom in Twon Brass in Brass Local Government Area of the State, said the traditional rulers are core stakeholders in the governance of Bayelsa, "thus when voted into office, they shall be adequately consulted and their welfare shall also be prioritized".
"The reason why most governments fail is because of their failures to properly consult and partner with the traditional stool, which is the fourth tier of the government.
in the State, part of Brass family, today is indeed a great day in my life to see my leader and royal fathers in Brass. We came here to consult our royal fathers and the entire people of Brass LGA that we are going for a battle".
"In Bayelsa State we have been experiencing a lot of issues which all of us are very much aware. One of such issues is insecurity which is eating up our dear State. For any government to succeed, such must have a reliable connection with the communities making the State… and what better if not through the eyes of the Traditional rulers".
"We have come with the commitment to serve Bayelsans and take development to every Bayelsa community. Thus, we shall consult the various communities through town hall meetings in order to address our challenges effectively".
"Today's visit is to introduce ourselves to you that we are here for our state wide electioneering campaigns and to plead with you to further introduce us to your people as the right Party and candidates for the November 16 election. Brass is too important not to be connected by road from Ogbia-Nembe. We shall build road to connect Brass to the State Capital, via Ogbia-Nembe"
"This will enhance the economic fortunes of the State and transform it to a modern city. But I cannot do this alone with my running mate, let's come together and make Bayelsa great. Successive governments have expended our resources without adequately imparting our dear State. With your support we can develop the State and specifically Brass. Let's walk as one family and we shall form a unified government. I am a peaceful man and we shall endeavor to make Bayelsa peaceful".
Chief David Lyon thanked the people of Brass Local Government for their unreserved support and urged them to vote for the APC in the November 16th Governorship election,"Go out and vote for the APC come November 16. APC is the answer to the cries of Bayelsans. I assure you I am a true Bayelsan and a native of Brass. Even my nomination came from one of your illustrious sons, Chief Timipre Sylvia. Thus I cannot turn my back on the people of Brass".
Speaking on behalf of the Okpoama Council of Chiefs, HRM King Ebitimi Banigo expressed concern over the rising disenchantment of the people of the state over the failure of the state to achieve true governance and development, "I have listened to the cries our people here in Okpoma Kingdom and also in Odioma Kingdom, I listened to the total dismay, what has happened to our dear people of Bayelsa State. Unfortunately, most of you may not be aware, I was one of the original discussants to the creation of our Bayelsa State and thanks to God we got this State"
"Since then I have been involved with this struggle, not just for Bayelsa State, but for the Ijaw race right from the time I was a student in 1966. We have tried different experiments to launch Ijaw nation and Bayelsa State on the path of development, but am sad to say that we are far from achieving our aims and our goals. I have been involved from the onset of civilian regime with His Excellency Chief Diepreye Alamieyeseigha".
"But today why I am proud is that I have two persons who are been presented to us that I have heard about I have met and exude the sense of humility and philanthropy and caring that we have sought for all these years, and I will say this even if you were in an opposing party. With what we have experienced, there is no way anybody here will not vote for the project that you are in. Not because of our hatred for anybody who contests against you, but for the fact that we want Bayelsa to rise and to be great".
"I fear nothing, at this my age I just want us to see the light. We have suffered!
We thank you for taking on this fight to lead us to the light, and most importantly, it is our little advice to you, that should you not perform should you tow same attitude like we have had before, we will turn against you. With your pedigree; what two of you have accomplished, there is no excuse for you to fail. I have full confidence in you that is why I stand today, tall and ready to go to battle, so I admonish everybody to make sure that you come out with you PVC and cast your vote for the APC on the 16th of November, 2019 for the salvation of our people; the Ijaw people and Bayelsa".
"So without saying much, ordinarily as a royal father I am to bless candidates running for the political offices, but as some of us have come together, we have to work for the progress our people. This means that we will have to stand up against those who had failed us, there is no question of saying since you are a royal father you are supposed to tolerate."
"We must vote 100% for APC , we have confidence that they will take our people to the promised land, where we can stand tall in the midst of comity nations, against other tribes and states to say, yes, we are Bayelsans."
Comments
comments