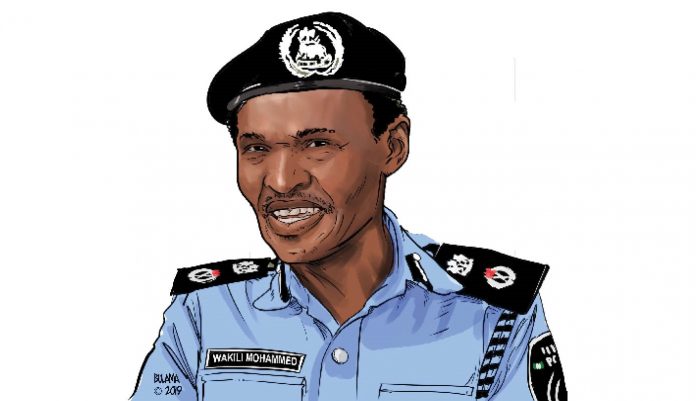 An emotional video went viral on the social media last week. In the one minute seven seconds video which was mostly circulated on WhatsApp, a fair, surpassingly beautiful lady was seen addressing the people of Kano in Hausa language.
Waxing like a politician in a recorded address to teeming supporters, the lady said: "Peace be upon the good people of Kano as I bring you greetings at this time. Please, I have a message and would be glad if you could assist me pass it across to someone special…"
Her message was simple but quite pellucid: "I have been under family pressure to bring a suitor for marriage but I have failed to produce one because among all my suitors there is none that I desired to spend the rest of my life with.
"But to the glory of God something happened; I saw a man I neither met before nor has he seen me either and my mind is now settled."
At this point the lady's face became brightened and beaming with seductive smiles she continued: "He is none other than Muhammad Wakili, the Commissioner of Police in charge of Kano State. I love him with my whole heart; please help me convey this message to him…"
The confession of affection as expressed by this anonymous in the video was just one out of the several outpouring of admiration by Nigerians from all walks of life towards the Kano State Commissioner of Police, Wakili, which went viral on the social media, especially in the aftermath of the March 9 governorship and state assembly polls.
In another video, he was shown being metaphorically 'mobbed' by tumultuous crowd of admirers who chanted: "Singham, Singham, as he waded through them on the streets of the commercial city of Kano.
Also there were several tweets on Twitter attesting to CP Wakili as a man of integrity who ensured Kano State had peaceful elections amidst challenges apart from combating illicit drug sale and consumption in the state.
Apparently responding to public inquiries over his nickname an overwhelmed CP Wakili said in another video interview: "Wherever I go, they call me Singham; I even thought they were referring to me as 'chingam' (chewing gum)."
Like the moth to the naked light the senior Nigerian Police officer, CP Wakili who hitherto remained relatively unknown has become the center of attraction to many Nigerians. Although he said he doesn't know why people call him 'Singham', an admirer who responded on Twitter said: "It is because you are a hero, sir and also a man of his own words who brings in law offenders to justice. Be proud of yourself sir, I am proud of you and Nigerian citizens are proud of you."
On resumption of duty CP Wakili had left no one in doubt about his determination to combat crime even as he had reportedly disclosed that hard drugs were being sold like groundnuts in the streets of Kano. He warned the perpetrators to immediately stop the illicit act or face the wrath of "the new Sheriff in town."
His dramatic gesticulations and affirmative tone in a video over this drew funny reactions on the Internet. "Drug abuse is prevalent in the society," he said in the video, adding: "Everywhere is drug abuse, everybody complains about drug abuse. Men abuse drugs, women abuse drugs, adult abuse drugs, children abuse drugs."
Indeed, CP Wakili's nickname as Singham is quite understandable; it is a symbolic reference to a no nonsense police officer, a fictional character in a 2011 Bollywood movie titled SINGHAM.
In the three part movie, the lead character called Bajirao Singham (Ajay Devgan) is depicted as an honest Maratha police Inspector in charge of the Shivgarh police station in Mombai, India. He resolved most of the problems in his town informally and without filing charge sheets, thereby gaining much reputation and love from the villagers.
Gautam Bhosle ("Gotya," Sachin Khedekar), an industrialist and a friend of Singham's father Manikrao Singham (Govind Namdeo) later came to Shivgarh with his wife and daughter Kavya (Kajal Aggarwal). Eventually Singham and Kavya fell in love with each other and their courtship manifested through a series of comic events where she initially hated him. Eventually, she had a change of heart when she discovered his honest and simple nature.
The lady who confessed her heartfelt love for CP Wakili to Kano audience in the video may not end up getting married to 'Singham' like Kavya. But her message of admiration has resonated among teeming Nigerians of diverse backgrounds who are united in their testimonies about the integrity of this super cop.
Comments
comments