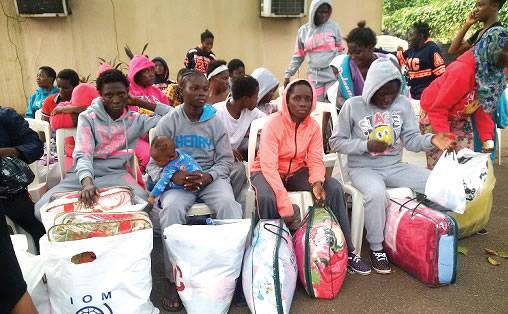 #NaijaLiveTv
The Federal Government says it will commence the voluntary repatriation of over 91,000 Nigerian refugees from Cameroon in July.
Hajiya Sadiya Farouk, the Federal Commissioner, National Commission for Refugees, Migrants and Internally Displaced Persons, disclosed this on Wednesday at the occasion to commemorate the 2018 World Refugees Day in Abuja.
She said that the Federal Government, Cameroon and UNHCR had signed a Tripartite Agreement in March 2, 2017, which inaugurated the Tripartite Commission with an advanced Technical Working Group to ensure the modality for their return.
SEE ALSO: England's manager dislocates shoulder while celebrating Kane's goals
According to her, President Muhammadu Buhari in its efforts to address the plight of refugees has commenced robust interventions geared toward safe and voluntary return of refugees and IDPs to their abode.
"Tripartite Agreement was aimed at the voluntary repatriation of over 91,000 Nigerians refugees from Cameroon.
"Let me state here that the TWG has concluded concrete operational modalities and support measures, including setting the timetable and procedures to ensure the safe, dignified, voluntary return and sustainable reintegration of Nigerian refugees from Cameroon.
"All things being equal, the voluntary repatriation should commence in July, 2018," she said.
She further said that Nigeria hosted 1960 urban refugees, 809 Asylum seekers persons from Africa, Middle East, Asia and Europe respectively.
Mr Jose Antonio-Canhandula, Country Representative, United Nations High Commissioner for Refugees, Nigeria, said that Nigeria has more Internally Displaced Persons (IDPs) than refugees in the country.
He urged all humanitarian partners to find durable solutions to put an end to human want, stating that human beings should not be eternally dependent on humanitarian assistance.
"In Nigeria, where we have IDPs than refugees, in both situations, humanitarian assistance is like running on the same spot, we need to keep in mind, even if we are running on the same spot.
"The best is that human beings should not be eternally dependent on humanitarian assistance, we need to integrate durable solutions to our collective strategy; we need to put an end to human want."
However, Mr Boss Mustapha, the Secretary to the Government of the Federation, who was represented by Ms. Glory Ahmed, Deputy Director Parastatals, said that the year has been characterised by an influx of Cameroonian refugees.
He said that over 22,000 refugees were registered so far by UNHCR with 1.7million Nigerians internally displaced by the insurgency.
Mustapha said that government was committed to responsive and accountable delivery of service by ensuring effective security of lives of the refugees, Asylum seekers and IDPs.
He, however, commended the state government and all humanitarian partners for their commitment and structural support arrangement for the refugees in the country.
Mrs Halima Ahmed, Commissioner for Finance, ECOWAS Commission said that addressing the plight of refugees, IDPs and other vulnerable groups were part of the major concern of ECOWAS commission.
"The ECOWAS Commission is committed to preventing causes of displacement through our various political and diplomatic processes as well as mitigating and alleviating the sufferings of our displaced populations in the ECOWAS space.
"In responding to these situations, the ECOWAS Commission has provided assistance to displaced population in the North East of Nigeria by sending food items worth one million dollars and supporting the rehabilitation of Nigerian refugees and IDPs with $700,00."
She, however, encouraged the refugees and other displaced population in the region that they were not alone and their situation was not unnoticed.
Comments
comments